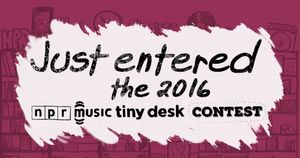 We're really excited to be a part of the Tiny Desk Concert Contest community for the second year in a row! This is becoming a delightful ISJ tradition and we're so grateful to
NPR Music
for the opportunity to enter!

The snow was falling outside, so we came in, lit a fire, and sang "Silence Falling" for the 2016 Tiny Desk Concert Contest. :) You can view our entry below:
 

Hope you enjoyed that video! :) We are also so excited to announce... that this week we've begun recording our fourth full-length album!!!!! There will be a handful of awesome guest appearances on this one. We're recording songs that have been around for a while and haven't found a home on an album yet, a couple of surprise re-recordings from previous albums, and brand new material hot off of Sarah's journal! The album is called "Circles" and it will come full circle this year. Keep your ear to the ground for more exclusive videos, and eventually, album pre-order information as soon as it's available. Thank you so much for your continued support. From the bottom of our hearts, we are so grateful. We get to do this because of you!